Features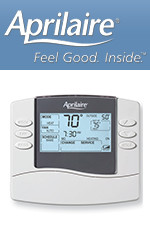 Aprilaire Model 8466 Programmable Thermostat
ON SALE - CALL FOR DETAILS
Aprilaire Model 8466 Thermostat can control Single Stage or Multistage standard or heat pump systems.
Aprilaire 8466 Thermostat can save up to 30% on energy costs annually.
It has a Progressive Recovery feature that ensures you home is always at your desired temperature.
The Aprilaire 8466 Programmable Thermostat offers convenient 5/1/1 day or 5/2 day programming. Other features include:
It sports a high contrast large 4.5 square-inch LCD Screen with backlit display for easy reading.
Progressive Recovery feature to ensure your indoor environment is at your desired level.
The Aprilaire 8466 Programmable Thermostat has a circulation fan mode that prevents hot and cold spots to maintain consistent temperature throughout your home.
Consumers Energy Management Inc. is Authorized Retailer of Aprilaire