Features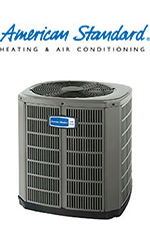 American Standard Gold SI Air Conditioner
ON SALE - CALL FOR DETAILS
Single Stage Cooling with excellent efficiency.
Extra quiet operation with reliable cooling.
Consistent comfort with up to 14.5 SEER Rating.
The American Standard Silver 13 Air Conditioner surpasses government efficiency standards and can save up to 38 percent on energy usage
This Gold SI Air Conditioner is environment friendly and reduces greenhouse gas emissions when in operation.
This air conditioner is an economical option and provides efficient and reliable cooling.
It features an environmentally friendly refrigerant that is ozone-safe.
This AC unit comes in rust-resistant coating with screws and basepan to protect the system from the elements.
Consumers Energy Management Inc. is Authorized Retailer of American Standard