Features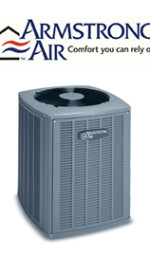 14 SEER Split System Air Conditioning
ON SALE - CALL FOR DETAILS
Grommet-mounted high-efficiency scroll compressor for quiet operation
Coil with aluminum fins and copper tubing for high efficiency and capacity
Raised coil to prevent debris from collecting and causing loss of airflow
Environmental friendly R410a refrigerant
High temperature motor overload prevention
Armstrong MHT™ Technology
The specially designed fan shroud on the 4SCU14LE Air Conditioner pulls air evenly throughout the air conditioner's coil surface. The coil with its lanced fins increases surface contact between metal and air for maximum heat transfer and energy efficiency.
Quiet Operation
The compressor on this cooling unit is wrapped in a heavy-duty, sound-insulating blanket to minimize operating noise for quiet and peaceful operation.
Protected Compressor
The Armstrong Air 4SCU14LE cooling system is manufactured with high- and low-pressure switches for a durable and long-lasting compressor. If the refrigerant pressures exceed safe levels, the high pressure switch stops the operation where as if your unit does not have enough refrigerant, the low-pressure switch stops the unit from drawing in moisture and other contaminants while operating.
Single-Stage Scroll Compressor
A single-stage scroll compressor is proven to be one of the best technologies on used on the compressor with performance, durability and long operating life.
Consumers Energy Management Inc. is Authorized Retailer of Armstrong Air