Features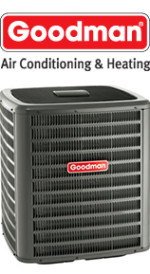 16 SEER R-410A High-efficiency Air Conditioner
ON SALE - CALL FOR DETAILS
Chlorine-free refrigerant – R-410A
A high-efficiency and high-performance compressor
5mm SmartCoil™ condenser coil
Factory-installed liquid-line filter drier
High-efficiency condenser coil made of corrugated aluminum fins and rifled refrigeration-grade copper tubing
Three-bladed fan and a louvered sound-control top – all of which add up to quieter system performance
Heavy-gauge galvanized steel louvered cabinet protects the coil, while its appliance-quality, post paint finish resists the effects of time and weather.
To complement home environment, the unit is finished in an architectural gray color for an attractive design
Air Conditioning, Heating, and Refrigeration Institute (AHRI) certified
Comfort and Durability
The Goodman GSX16 air conditioner is manufactured and tested to work in extreme heat to provide your home with cool comfort in those hot summer days and night. The high performance compressor operates with rifled refrigeration-grade copper tubing and corrugated aluminum fins high-efficiency coil to cool your home effectively.
Efficiently Quiet
The Goodman GSX16 Air Conditioners are manufactured with sound-dampening features which helps ensure an inaudible air conditioner operation. To ensure quietness, a unique louvered sound-control top condenser fan system helps reduce fan related noise so your household can enjoy quiet cool comfort for years to come.
Patented Smartcoil™ Technology
Goodman's patented Smartcoil™ technology is used in the GSX16 Air Conditioner unit. This technology enables by making the condenser coil copper tubing smaller and smarter so this air conditioner unit operates with high-efficiency and uses less refrigerant to deliver durable money-saving and energy-saving comfort.
R-410A Refrigerant
GSX16 Air Conditioner system features the R-410A refrigerant which is chlorine-free. The R-410A refrigerant has helped increase the durability and reliability of air conditioner compressors. The GSX16 also reduces the energy consumption with 16 SEER rating.
Consumers Energy Management Inc. is an Authorized Retailer of Goodman Air Conditioners