Features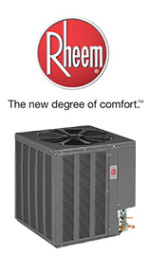 Up to 17 SEER Performance
ON SALE - CALL FOR DETAILS
Available in two Models: 14AJM and 13AJN
Energy efficient Cooling Scroll® compressor technology
Steel cabinet with Copeland scroll compressor
AHRI (Air Conditioning, Heating, and Refrigeration Institute) certified
Energy Star Certified
Environment and ozone friendly R-410A chlorine-free refrigerant
Reliable Energy Efficient Comfort
The Rheem Value Series Air Conditioner is designed to perform with lasting comfort. The Energy-Efficient Cooling Legendary Scroll® compressor technology enables this air conditioning unit to be energy-efficient and durable so the family can enjoy cool comfort for years to come.
Quality, Comfort and Low-Cost Maintenance
When purchasing heating and cooling equipment, it is considered to be an investment with long lasting comfort. Rheem HVAC equipment is manufactured to deliver just that and these products continually perform and deliver value. These air conditioning systems are designed with easily accessible internal components which make them low-cost maintenance.
Protective Design with Superior Finish
Rheem Value Series Single Stage Air Conditioners are housed in a full metal cabinet to protect the coil from hail, lawn debris and most importantly keep curious children safe while superior finish paint can withstand up to 500 hour salt spray test and keeps the air conditioner unit safe from rust and elements. To ensure maximum durability, factory tests on Rheem equipment ensure that they operate at peak performance.
Consumers Energy Management Inc. is Authorized Retailer of Rheem