Features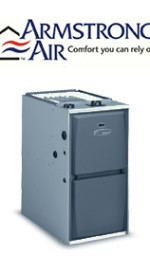 Armstrong Air 95% AFUE, High Efficiency, Single Stage, Multi-Speed Constant Torque Blower
ON SALE - CALL FOR DETAILS
Primary heat exchanger manufactured in stainless steel with crimped non-welded construction
Smooth ignition via aluminized steel in shot burners
Compact design of only 33″ height with standardized widths for easy coil fit
Constant torque multi-speed high-efficiency blower motor
When installed with properly matched cooling equipment, enhanced cooling SEER ratings
Gas valve with single stage
Sturdy silicon nitride igniter
EHX™ Technology
Every Armstrong Air gas furnaces uses and is built on Armstrong patented EHX™ Technology. This technology eliminates the hot spots that can reduce the furnace life. This technology also makes the heat exchanger more durable. The advanced air flow system enables the heat exchanger to contact with more air thus enhancing efficiency and comfort.
Heat Exchanger
The heat exchanger on the Armstrong Gas Furnace is manufactured with stainless steel for maximum strength. They are also crimped, rather than welded which make them highly resistant to thermal fatigue and other stresses caused by repeated heating and cooling. When testing these heat exchangers, Armstrong subjects them to temperatures which exceed normal operating ranges, to ensure they will stand up to decades of use.
Constant Torque Motor
The blower motor on the gas furnace maintains a more consistent airflow to keep you and your household consistently comfortable. The blower motor also operates with greater efficiency and less noise. This allows a steady flow of air, and helps in eliminating hot or cold spots for more even temperatures throughout your home. When the set thermostat is set to "Fan ON", the furnace circulates air at low speed and uses less energy while improving air filtration.
Armstrong Quiet Combustion™ Technology
This gas furnace uses the patented Quiet Combustion™ Technology which uses a smaller Btu input on every burner for quiet startup and operation while providing more even heat distribution.
Armstrong Internal Monitoring
This Armstrong Air A951E gas furnace is equipped with an electronic control system which prolongs system life by continuously monitoring internal components for optimum performance and fault prevention
Consumers Energy Management Inc. is Authorized Retailer of Armstrong Air
Resources
Documentation
Video