Features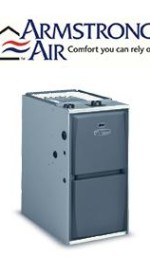 Armstrong Air 93% AFUE, High Efficiency, Single Stage
ON SALE - CALL FOR DETAILS
"A" models benefit from Aluminized steel primary heat exchanger with crimped no weld construction
Smooth ignition by aluminized steel inshot burners
PSC multi-speed blower motor
Self-diagnostic unit with last 5 fault code saves
Patented EHX™ Technology
Armstrong patented EHX™ technology is designed to eliminate the hot spots that can shorten the life of the furnace. This technology also makes the heat exchanger more durable. With advanced airflow system, it also enhances both efficiency and comfort.
Patented Quiet Combustion™ Technology
This furnace makes use of Quiet Combustion™ Technology where it uses a smaller Btu input per burner for a quiet start-up and operation while the heat is also distributed consistently

Internal Monitoring System
This Armstrong Air A931A furnace's electronic control system continuously monitors internal components for optimum performance and fault prevention and thus also prolonging the unit's life.
Consumers Energy Management Inc. is Authorized Retailer of Armstrong
Resources
Documentation
Video