Features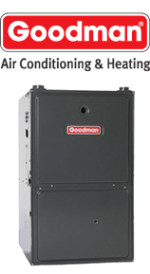 Up to 95% AFUE Two Stage Gas Valve, High Efficiency, Multi Speed Furnace
ON SALE - CALL FOR DETAILS
Tubular heat exchanger with aluminized-steel dual-diameter
Convertible Technology with two-stage gas valve
Self- diagnostics electronic control board and provisions for a humidifier and electronic air cleaner
Sturdy 110-volt Silicon Nitride Igniter
Sound proofed heavy-gauge steel cabinet with durable baked-enamel finish
Comfort Redefined
With two-stage heating and a multi-speed circulating blower, Goodman's GMH95 High-Efficiency Gas Furnace provides both efficient and economical performance. This gas furnace is designed to operate up to 90% of the time on low-speed capacity on most days. This technology used differs from ones found in conventional single stage furnace where it enables the furnace to operate at a low heating state most of the time and thus helps in eliminating temperature swings which result from abrupt high-stage stops-and-starts of the furnace. But when it gets chilling cold outside, this furnace quietly ramps up to high-speed capacity to deliver all the warm, comfortable heat your home needs. This technological feature enables this gas furnace to be more energy efficient while keeping the home environment comfortable. Also with its AFUE ratings of 96%, it cut down on heating energy expenses which equates to about 96 cents of every $1.00 for warming your home. Many older units are rated at 60% AFUE. The AFUE (Annual Fuel Utilization Efficiency) system was established by the Department of Energy (DOE) for calculating the annual operating cost of residential gas furnaces.
Quiet Continuous Operation
The multi-speed blower and two-stage gas valve in the Goodman GMH95 Furnace have been specially chosen to reduce the noise levels. For comparison purpose furnaces without these features are quite noisy. Also included in this furnace is Goodman's patented Dual$aver™ technology which delivers steady, gradual heat thus making the household environment more comfortable. With fully insulated, heavy-gauge steel cabinet housing, it makes the GMH95 Furnace inaudible.
Reliable and Long-Lasting
Inside the Goodman GMH95 gas furnace hearts lays the award-winning heat exchanger which is constructed from tubular aluminized-steel and formed into a dual diameter configuration. To make it more durable, the heat exchanger also benefits from the use of use of wrinkle-bend technology. Additionally, Goodman has also installed a stainless-steel secondary heat exchanger. These combined features of reliability, durability, and efficiency make it one of the best gas furnaces available
Consumers Energy Management Inc. is Authorized Retailer of Goodman
Resources
Documentation
Video