Features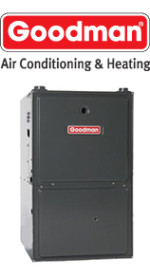 Up to 96% AFUE Two Stage Gas Valve, High Efficiency, Multi Speed ECM Furnace
ON SALE - CALL FOR DETAILS
Dual-diameter aluminized-steel tubular heat exchanger
Convertible technology two-stage gas valve
Durable 110-volt Silicon Nitride Igniter
Humidifier and electronic air cleaner with electronic control board with self-diagnostics
Fully insulated durable baked-enamel finish heavy-gauge steel cabinet
Efficiency and Comfort at your Fingertips
A two-stage heating and a multi-speed circulating blower in Goodman's GME95 High-Efficiency Gas Furnace provides efficient and economical performance. The technology used by Goodman in GME95 Gas Furnace differs from ones found in conventional single stage furnace. Goodman's technology enables the furnace to operate at a low heating state most of the time and thus helps in eliminating temperature swings which result from abrupt high-stage stops-and-starts of the furnace. In addition, this gas furnace has an AFUE rating of up to 96%, it translates up to 96 cents of every $1.00 of heating energy expense warms your home.
Simply Quiet
A multi-speed blower and two-stage gas valve has been specially selected in GME95 Furnace to reduce the noise levels to a bare minimum. Compared with the traditional single-speed furnaces, this gas unit is inaudible. To help in noise reduction, GME95 gas furnace is housed in a fully insulated, heavy-gauge steel cabinet.
Just Durable
The award-winning design of the primary heat exchanger in the Goodman GME95 is unique and is constructed from tubular aluminized-steel and formed into a dual diameter configuration. To enhance durability, wrinkle-bend technology is also used in the heat exchanger. This gas furnace is also equipped with a stainless-steel secondary heat exchanger. As the heat exchanger is considered to be the heart of any gas furnace, special attention is given to it by Goodman to make a unit that is both long-lasting and comfortable.
Consumers Energy Management Inc. is Authorized Retailer of Goodman