Features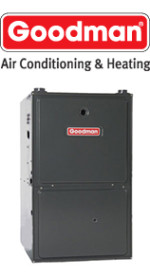 Up to 96% AFUE Two Stage Gas Valve, High Efficiency, Variable Speed Furnace
ON SALE - CALL FOR DETAILS
Dual-diameter tubular aluminized-steel heat exchanger
Variable, efficient and quiet speed circulator motor
Compatible with ComfortNet™ Communications System
110-volt durable Silicon Nitrade Igniter
Multiple continuous fan speed options for quiet air circulation
Self-diagnostics electronic control board with provisions for air cleaner and humidifier
Enhanced dehumidification with auto-comfort mode
Inaudible two-speed induced draft blower
Amazing Comfort
A variable speed circulating blower with two-stage heating in Goodman's GMVC95 High-Efficiency Gas Furnace provides efficient and economical performance. As compared with single stage gas furnaces that operate 'all on' or 'all off', this variable speed furnace normally runs up to 90% of the time in the low speed capacity on most days hence being energy efficient. Depending on the temperature outside, if it gets cold, the unit ramps up to high speed capacity to keep your home comfortable. Also, this gas furnace has an AFUE rating of 96%, which means that for every $1.00, up to 96 cents of heating energy expense warms your home.
Simply Quiet
With an award winning design of the primary heat exchanger in Goodman GMVC95, its operation is so quiet that it is hardly audible to the ear. This unique design makes use of tubular aluminized-steel and formed into a dual diameter configuration with the use of wrinkle-bend technology results in an extremely durable heat exchanger. As considered the most important part of any gas furnace, GMVC95 also uses a stainless-steel secondary heat exchanger. This combination of parts provides the best levels of reliability, durability, and efficiency.
With Comfortnet™ compatible, this gas furnace includes advanced diagnostics, automatic maintenance alerts and continuous monitoring of the system's performance. All in all a win win situation for you as the owner of this furnace.
Consumers Energy Management is Authorized Retailer of Goodman
Resources
Documentation
Video