Features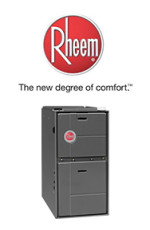 Up to 95% AFUE 2-Stage Variable Speed ECM
ON SALE - CALL FOR DETAILS
AFUE Rating of up to 95%
Two heat exchangers – a primary and a secondary
The two-stage gas valve to adjust gas flow
Variable Speed Motor for optimum humidity control, quiet operation and year-round energy efficiency
Two-stage control board to direct activities of the gas valve and the blower
Quiet with Savings
This Rheem gas furnace is equipped with a quiet variable speed ECM motor with an insulated blower compartment, a slow-open gas valve and specially designed 2-speed induced draft motor & blower motor to make this furnace both quiet and comfortable while saving on the energy cost. With two stages of operation, it saves energy and maintains optimal comfort level as it operates at 70% capacity for low-heat and 100% capacity for high-heat
Rheem Patented Heat Exchanger
The primary heat exchanger on this gas furnace unit is constructed of aluminized steel while the secondary heat exchanger constructed of stainless steel for maximum corrosion resistance and thermal fatigue reliability.
Rheem Direct Spark Ignition & Remote Sensor
Rheem gas furnace is engineered with direct spark ignition with reduced firing rates and this allows for an efficient method of gas ignition as the remote flame sensor monitors the flame. If in case the main burner fails to ignite, the direct spark ignition with remote sensor will lock out system after trial for ignition.
Consumers Energy Management Inc. is Authorized Retailer of Rheem