Features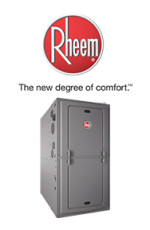 Up to 92% AFUE PSC Motor Multi Position
ON SALE - CALL FOR DETAILS
AFUE Rating of up to 92%
20% quieter operation by improved airflow
PlusOne Ignition System – Direct spark ignition
PlusOne Water Management System – Blocked drain sensor (patent pending)
PlusOne Diagnostics – 7-segment LED display
PSC Motor and 4 way multi-poise design
Comfort and Reliability
The Rheem R92P Classic Series Gas Furnace is engineered to be both comfortable and reliable. This gas furnace comes equipped with Rheem–exclusive PlusOne Ignition System and is one of the most reliable ignition systems available in the market today. Also included is PlusOne™ Water Management System and is industry's first blocked drain sensor. It will shut off the furnace when a drain is blocked, preventing water spillage and potential water damage to your home.
Quiet and Efficient
Rheem Classic Gas Furnace comes with a new patented heat exchanger design which improves airflow and also reduces operating sound by about 20%, making it one of the quietest gas furnaces available in the market. Its high efficiency ratings make it a truly energy-efficient unit.
Easy Installation and Maintenance
This feature benefits the consumers as it is easy on the pocket and you save on installation costs with faster, more cost-effective repairs during maintenance. The Rheem gas furnace is also designed with PlusOne™ Diagnostics and is an industry-first 7-segment LED display, to makes service calls quick and easy.
Consumers Energy Management Inc. is Authorized Retailer of Rheem