Features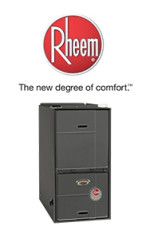 Up to 96% AFUE Modulating ECM Motor
ON SALE - CALL FOR DETAILS
Comfort Control² System with Serial Communication
High efficient variable speed motor
Variable and modulating capacity
Advanced Indoor Air Quality Capability
Direct Spark Ignition with hot surface ignition
Patented Comfort Control² System™
The Comfort Control² System™ technology equipped in Rheem Prestige Series gas furnace provides on-board diagnostics and fault history codes by detecting system & electrical problems. To alert the homeowner, a "Call for Service" alert notification is sent to the thermostat.
Motor and Blower Compartment
The ECM communication motor in Rheem Prestige Series Modulating 95% AFUE with Comfort Control System make this gas furnace both energy efficient and inaudible. The specially designed 2-speed induced draft motor & blower motor with an insulated compartment and a slow-open gas valve make it one of the most reliable and quietest furnaces in the market.
Patented and Reliable Heat Exchanger
The primary heat exchanger on this Prestige Series Gas Furnace is constructed from aluminized steel while the secondary heat exchanger enjoys stainless steel construction for thermal fatigue reliability and maximum corrosion resistance.
Consumers Energy Management Inc. is Authorized Retailer of Rheem