Features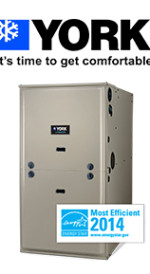 York® LX Series TM9V Furnace up to 96%, Two-Stage, Variable Speed
ON SALE - CALL FOR DETAILS
Up to 96 AFUE rating with ENERGY STAR® certified
Higher degree of comfort with two-stage burner
Efficient and quiet circulation with variable speed motor
Compact 33-inch height design to fit any space
Good Housekeeping Seal
This York LX series is proud to have earned the Good Housekeeping Seal which is a nearly century-old symbol of quality and trust.
York Limited Lifetime Heat Exchanger and 10-Year Limited Parts Warranty
York LX series is backed by industry's best warranty. This LX Series Gas Furnace's heat exchanger enjoys a limited lifetime warranty while the parts have a 10-year limited warranty
ENERGY STAR®
The ENERGY STAR® label on York LX Series Gas Furnace indicates that this product is at least 15% to 25% more efficient than standard products and meets all strict EPA and DOE guidelines.
York Variable Speed Technology
The blower technology on York LX TM9V furnace adjusts gradually to deliver precise comfort without wasting energy.
Consumers Energy Management Inc. is Authorized Retailer of York