Warranty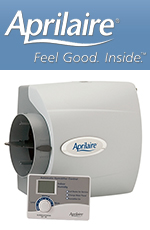 Aprilaire Humidifier Model 600
ON SALE - CALL FOR DETAILS
Aprilaire 600 Humidifier delivers total comfort with up to 50% more moisture than competitive units.
Aprilaire Model 600 Humidifier has an Automatic Digital Humidifier Control the delivers optimum levels of humidity.
The Aprilaire Model 600 Humidifier features a built-in bypass damper to ensures ease of installation.
5 Years Limited Warranty on parts from date on installation
NOTE: The warranty is only valid when installed by a licensed HVAC installer.
Consumers Energy Management Inc. is Authorized Retailer of Aprilaire Humidifiers