Features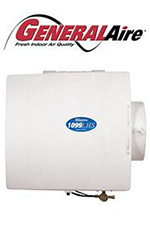 GeneralAire Legacy Series Humidifier
ON SALE - CALL FOR DETAILS
Ideal for Home Sizes up to 3,000 Sq. Ft
19 GPD (Based on 120° Plenum Temperature)
24V and 15 Lbs weight
Vapor Pad® to be replaced 1-2times per season
The MHX3 Manual-Control Duct Mount Humidistat included
The Healthy Choice
The GeneralAire 1099LHS Humidifier is designed to eliminate the dry air from your household which is one of the major causes for asthma, allergy symptoms and can also lead to dry and itchy cracked skin. Furthermore low humidity levels in your home's air lead viruses to thrive hence making it unhealthy indoor environment.
Protection from Dry Air
The GeneralAire 1099LHS Legacy Humidifiers help eliminate the dry air in your house. Exposure to dry air can affect you and your family's health and can also be held responsible for expensive artwork, wood flooring, cabinets, furniture and musical instruments to crack. It is also responsible for increase in static shocks which can damage electronics as well.
Protection with Energy Efficiency
The GeneralAire Humidifiers are energy efficient as they eliminate dry air from the household. Since dry air can lead to cracks in the woodwork, the doors and windows might establish gaps which might let outside air in and making either the furnace or the air conditioner to work more and use up more energy. Make the smart choice for you and your family with the GeneralAire Legacy Humidifiers.
Consumers Energy Management Inc. is Authorized Retailer of GeneralAire