Features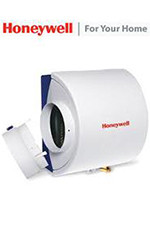 Honeywell Enviracaire Elite™ By-Pass Flow-Through Humidifiers
ON SALE - CALL FOR DETAILS
High output with up to 17 gallons of moisture into the air each day
Easy humidifier pad replacement
Seasonal damper allows for control of humidity for every season
Anti-microbial coating on the pads for prevention of growth of bacteria, fungus etc.
Health and Comfort
Honeywell Enviracaire Elite™ Bypass Humidifier is manufactured to provide both comfort and health to you and your family with energy savings. The Honeywell By-Pass Flow-Through Humidifiers reduces allergy and asthma symptoms while minimizing the risk of infection as it prevents growth of molds, bacteria, fungus and algae on the pads.
Maintenance made Simple
The Honeywell Bypass Humidifier is both designed and developed for easy maintenance. The replacement Honeywell Humidifier pads only required to be replaced once a season with simplicity. With high output this Honeywell Humidifier provides up to 17 gallons of clean fresh air every day.
Reliable and Energy Efficient
The Honeywell Enviracaire Elite™ Humidifiers are designed to provide years of long lasting healthy fresh and clean air to your household. The humidified air from the Honeywell Humidifier feels both warmer and more comfortable so you may lower your thermostat heating set point which saves you money on your heating fuel bills
Consumers Energy Management Inc. is Authorized Retailer of Honeywell