Features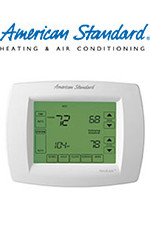 American Standard Gold ZM ACONT900 Control Thermostat
ON SALE - CALL FOR DETAILS
Compatible with AccuLink™ communicating systems
7-day Programmable Thermostat for maximum comfort
Remote monitoring and programming for energy savings
Humidity balance and control with outdoor weather monitoring
7 day programmable for both heat and cool settings.
Large easy-to-use backlit touch screen display.
Works with 4 Heat/2 Cool stages
Built-in frost control option to reduce humidification when condensation or frost might occur on windows.
Works with the humidifier or air conditioner to regulates proper moisture levels
When combined with an American Standard AccuClean™ Whole Home Air Filtration System, the programmable fan can increase air circulation and contribute to better air filtration.
Energy efficient and saves on energy costs while reducing greenhouse gas emissions.
Consumers Energy Management Inc. is Authorized Retailer of American Standard