Warranty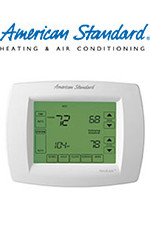 American Standard Gold ZM ACONT900 Control Thermostat
ON SALE - CALL FOR DETAILS
Compatible with AccuLink™ communicating systems
7-day Programmable Thermostat for maximum comfort
Remote monitoring and programming for energy savings
Humidity balance and control with outdoor weather monitoring
10 Year limited warranty on internal functional parts
Optional Extended Warranties available and can pay for labor and other costs not covered by manufacturer's limited warranty.
Note: Warranty is applicable for residential use only and some exclusion may apply.
If the American Standard Gold ZM Thermostat is not registered within 60 days of installation, the Base Limited Warranty terms will apply. Please review Warranty Information for more details.
Consumers Energy Management Inc. is Authorized Retailer of American Standard