Features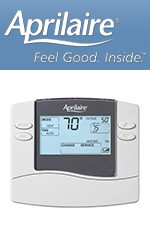 Aprilaire 8444 Digital Thermostat
ON SALE - CALL FOR DETAILS
Aprilaire Model 8444 Thermostat works with standard HVAC systems.
It provides pinpoint digital accuracy for a comfortable indoor environment.
Easy to use temperature control that can override program schedule when required
The Aprilaire Model 8444 Thermostat is extremely easy-to-use and offers:
The Aprilaire Model 8444 Thermostat sports a large 4.5 square-inches backlit LCD Display with a high-contrast for easy reading.
The Aprilaire 8444 Thermostat can simultaneously display room temperature, temperature setting and outdoor temperature, in Fahrenheit or Celsius.
It also provides service reminders for your HVAC system, air filter, humidifier and dehumidifier to protect your HVAC system.
It offers a simple setup menu for activating optional features.
Consumers Energy Management Inc. is Authorized Retailer of Aprilaire