Features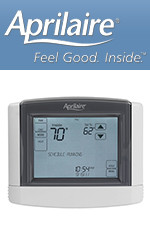 Aprilaire Model 8600 Programmable Thermostat
ON SALE - CALL FOR DETAILS
Aprilaire Model 8600 Thermostat works with any heating or cooling system.
Aprilaire 8600 Thermostat can save up to 30% on energy costs annually.
With a Progressive Recovery feature, this programmable thermostat ensures your home is always at your desired temperature.
The Aprilaire Model 8600 Programmable Thermostat is easy to program and can set back the temperature during the night or when you are away. Other features include:
The Aprilaire 8600 Thermostat has a large 10.3 square-inch touchscreen, featuring an exclusive message center.
Progressive Recovery that ensures your indoor environment is at your desired temperature.
Vacation Hold and Custom-timedhold.
Permanent and Temperory Hold.
Optional Circulatory Fan Mode with Programmable fan that deliver better indoor air quality and prevents hot and cold spots.
Consumers Energy Management Inc. is Authorized Retailer of Aprilaire