Features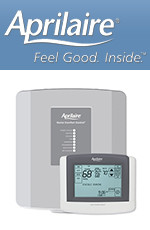 Aprilaire Model 8910 Home Comfort Control Thermostat
ON SALE - CALL FOR DETAILS
Aprilaire Model 8910 Thermostat works with any heating or cooling system.
Aprilaire 8910 Thermostat is Energy Efficient and can save up to 30% on energy costs annually.
When paired with Aprilaire whole-home air quality solutions, this thermostat provides total control of your comfort.
The Aprilaire Model 8910 Programmable Thermostat is easy to program and the perfect solution that can control each and every aspect of your home's indoor air quality to provide complete control and comfort to you and your family. Other features include:
The Aprilaire 8910 Thermostat has a large 10.3 square-inch touchscreen, featuring an exclusive message center.
It provides maximum energy savings a by allowing you to set back the temperature during the night or when you're away.
It also offers optional Event Based Air Cleaning when paired with an Aprilaire whole-home air purifier.
Consumers Energy Management Inc. is Authorized Retailer of Aprilaire