Features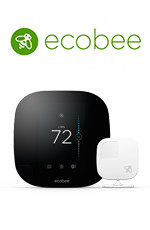 Smart Wi-Fi Thermostat with Remote Sensor
ON SALE - CALL FOR DETAILS
Features a 3.5″ full-color LCD touchscreen, 320 x 480 pixel displays.
Highly intuitive iconography and controls.
With a Remote Sensor, it reads temperature in multiple locations to eliminate uneven temperatures in the rooms.
It can help reduce up-to 23% in energy costs annually.
Smart Thermostat
The Ecobee3 Smart Wi-Fi Programmable Thermostat works flawlessly with your heating or cooling system and can also sense whether anyone's home and which rooms are occupied. It works based on your home's unique energy profile and the weather outside to keep your home comfortable round the clock.
Comfort and Energy Efficient
The Ecobee3 Smart Wi-Fi Thermostat can help save you up-to 23% of your annual energy cost without compromising on your home's comfort. With this Wi-Fi enabled thermostat, you can easily control your home's temperature remotely via your computer, smart phone or tablet.
Consumers Energy Management Inc. is Authorized Retailer of Ecobee