Features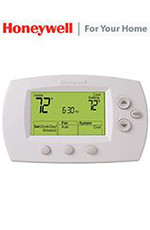 Honeywell FocusPRO 6000 5-1-1/5-2 Day Programmable Thermostat
ON SALE - CALL FOR DETAILS
Wireless Thermostat
Honeywell Adaptive Intelligent Recovery ™ System
Built-in compressor protection system
Auto-change over function
Precise temperature control
Adaptive Intelligent Recovery™ System
The Honeywell FocusPRO 6000 Thermostat includes an Adaptive Intelligent Recovery™ (AIR) system which allows the thermostats to "learn" the time it takes the air conditioner or furnace to reach optimum temperature. The Honeywell Thermostat then automatically turns on the cooling or heating to reach the temperature required.
The Compressor Protection System
The Honeywell 5-1-1/5-2 Day Programmable Thermostat is manufactured with a built-in compressor protection system. This system allows the thermostat to ensure compressor doesn't turn on and makes it wait for a few minutes before restarting so to minimize risks of any damage to the compressor.
Auto Changeover Feature
The Honeywell FocusPRO 6000 Programmable Thermostat is equipped with an auto changeover feature and is used in climates where both air conditioning and heating are used on the same day. The thermostat when set to Auto and it automatically selects cooling or heating depending on the indoor temperature
Consumers Energy Management Inc. is Authorized Retailer of Honeywell