Features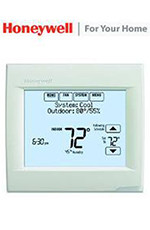 Honeywell VisionPRO 8000 7 Day Programmable Thermostat
ON SALE - CALL FOR DETAILS
Maximum comfort and economy with 7-day program schedules
Maximum cost savings with Energy-saving settings
One-touch temperature control overrides program schedule
Precise comfort control
Change/check reminders for replacement or service of filters, batteries etc
Touch screen display
Adaptive Intelligent Recovery™ (AIR) System
The Honeywell VisionPRO 8000 Thermostat is equipped with an Adaptive Intelligent Recovery™ (AIR) system. This system "learns" the time it takes for the furnace or the air con to reach the ideal temperature and provides comfort by turning on either the heating or cooling at precise time.
Compressor Protection System
The Honeywell 7 Day Programmable Thermostat also features a built-in compressor protection system that allows the thermostat to ensure the compressor doesn't turn on within a few minutes of a restart. This minimizes risks of any damage to the compressor.
Dehumidification Mode Feature
The Honeywell VisionPRO 8000 Programmable Thermostat is equipped with a Dehumidification mode feature. The thermostat controls the indoor climate while it is vacant during humid season. This ensures the temperature and humidity will be kept at levels that protect the indoor environment.
Consumers Energy Management Inc. is Authorized Retailer of Honeywell