Features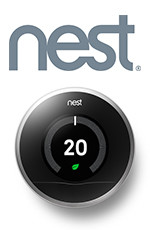 Nest Wi-Fi Programmable Thermostat
ON SALE - CALL FOR DETAILS
Features a bright LCD screen with 320x320px display
Auto Schedule; learns the temperature you like and programs itself for a week
Connects easily via Wi-Fi to help you can control your home's temperature anywhere anytime.
Sensor window with built-in rechargeable lithium ion battery
Auto Schedule & Auto Away Technology
The Nest Wi-Fi Thermostat is designed so it can learn from you and it automatically can program itself according to the energy profile you like maximizing comfort for you and your family. For maximum energy savings this thermostat can automatically turns itself down when nobody's home to help you conserve energy.
Wi-Fi Enabled with Nest Leaf
The Nest Thermostat can easily connect with your computer, smart phone or tablet over Wi-Fi so you can control your home's comfort from anywhere. To reduce your energy cost, it features a Nest Leaf; when you choose a temperature that saves maximum energy, you will see a Leaf icon on the display.
Consumers Energy Management Inc. is Authorized Retailer of Nest Thermostats