Features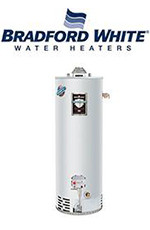 Bradford White Defender Water Heater
ON SALE - CALL FOR DETAILS
Flame Arrestor design with advanced ScreenLok® Technology
Resettable thermal switch with sight window
Maintenance free with pedestal base
Hydrojet® Total Performance System factory installed
Vitraglas® lining with T&P relief valve included
Protective magnesium anode rod and brass drain valve
ICON System
The Bradford White patented ICON System is an exclusive gas control technology and offers numerous energy and time-saving advantages including
Advanced Temperature Control System with Exclusive Performance Software
Intelligent Diagnostics and Pilot-On-Indication
Separate Immersed Thermowell and Millivolt Powered
Integrated Piezo Igniter and Universal Replacement
Defender Safety System
Bradford White registered Defender Safety System is manufactured with flame arrestor design of the patented ScreenLok Technology which helps it maintain very low NOx emissions with outstanding efficiency and durability while providing maintenance free operation.
Durable and Long Lasting
Bradford White Defender Safety System Atmospheric Vent Water Heaters are protected from the corrosive effects of hot water by an exclusive Vitraglas enamel lining. This lining is exclusively formulated and applied to the interior of the water heater tank to provide unsurpassed protection.
Consumers Energy Management Inc. is Authorized Retailer of Bradford White