Features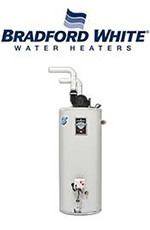 Bradford White Defender PDX1 Water Heaters
ON SALE - CALL FOR DETAILS
Factory Installed Hydrojet® Total Performance System with Vitraglas® lining
¾" NPT factory installed dielectric waterway fittings and side connections for space heating
Brass drain valve with T&P valve included
Flammable vapor sensor with vertical or horizontal venting
Powerful blower motor with spark-to-pilot ignition with Closed Combustion
Included Honeywell Self Diagnostic Electronic Control
The ICON System
Bradford White's ICON System included PDX1 Power Direct Vent water heaters offers both time and energy saving benefits which include
Advanced Temperature Control with Intelligent Diagnostics
Pilot-On-Indication and Performance Software
Integrated Piezo Igniter and Millivolt Powered
Separate Immersed Thermowell
Advanced Ignition and Thermostat System
The PDX1 Power Direct Vent water heater is equipped with Spark to Pilot Ignition System to ensure reliable and consistent pilot. The Integrated Immersion Thermostat and Gas Control Valve with LED equipped in this water heater unit allows for easy troubleshooting by providing simple diagnostic codes to pinpoint an installation or component performance issue.
Quiet Blower Operation
The Bradford White PDX1 Water Heater is equipped with a new powerful and quiet blower motor to eliminate problems with difficult venting situations. With significantly reduced blower noise for both interior and exterior environments, the blower ensures cooler operation with extended life.
Consumers Energy Management Inc. is Authorized Retailer of Bradford White