Features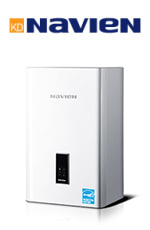 Navien Condensing Gas Combination Boiler (NCB)
ON SALE - CALL FOR DETAILS
Super condensing efficiency & automatic water filling system
Dual stainless steel heat exchangers with integrated controls
SCH40, 2" PVC venting up to 60' and ½" gas pipe up to 24'
Ultra Condensing Efficiency with Two Stainless Steel Heat Exchangers
The Navien NCB-240 Combination Boiler offer Condensing Technology with high efficiency when compared with other tank type water heaters and traditional water heaters. With highly resistant to corrosion and erosion compared to copper heat exchangers, this boiler provides durability and longer life expectancy.
Energy Efficient and ECO Friendly
The Navien NCB-240 is an ECO friendly Boiler and an ideal solution for homes that require both domestic hot water and a space heating application. It is an economical unit and radiates heat from floor to ceiling and can also transmit warmth throughout the house hours after turning off the heater.
Consumers Energy Management Inc. is Authorized Retailer of Navien Boilers