Features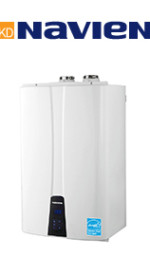 Navien Premium Gas Tankless Water Heater
ON SALE - CALL FOR DETAILS
Field convertible gas system and ultra-condensing efficiency
Dual stainless steel heat exchangers
Low NOx emissions (≤ 20ppm) and cascading capable
SCH 40, 2" venting up to 60' and ½" gas pipe capable up to 24'
ComfortFlow Technology™
Navien NPE-240A Condensing Gas Tank Less Water Heater is equipped Navien's patented ComfortFlow Technology™ with features including
Elimination of cold water sandwich
Energy efficient with built-in recirculation system.
Takes less time to get water hot and also save water as well.
Equipped with intelligent pre-heating function.
Ultra Condensing Efficiency with Two Stainless Steel Heat Exchangers
Navien NPE-240A Condensing Gas Tank-Less Water Heater provides ultra-condensing efficiency to ensure this water heater performs flawlessly with minimal annual operating cost. Also the stainless steel heat exchangers provide longer life expectancy as they are highly resistant to corrosion and erosion.
Less Water Pressure Drop with Intelligent Preheating Technology
The Navien NPE-240A is energy efficient Tankless Water Heater which recognizes hot water usage patterns to intelligently provide hot water on demand. The modular design of the water path makes maintenance and service easy while the simple modular for water path minimizes water pressure drop.
Consumers Energy Management Inc. is Authorized Retailer of Navien