American Standard Silver 16 Air Conditioner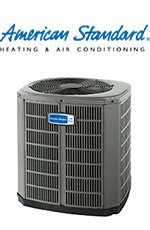 American Standard Gold XI Air Conditioner
ON SALE - CALL FOR DETAILS
Extra comfort with quiet operation.
Environmental, ozone friendly refrigerant.
Energy Efficient with up to 17 SEER Rating.
The American Standard Silver 16 Air Conditioner is an energy-efficient cooling unit that offers energy efficiency and extra comfort to your home even in the hottest days of summer. The Gold XI Air Conditioner features a durable design that will help you beat the heat year after year.
Consumers Energy Management Inc. is Authorized Retailer of American Standard