Features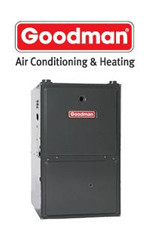 Up to 92.1% AFUE Performance Single-Stage, Multi-Speed
ON SALE - CALL FOR DETAILS
Tubular heat exchanger with aluminized-steel dual-diameter
Quiet four-speed circulator blower motor with maximum energy savings
Heavy-duty hot surface mini-igniter
Self-diagnostics electronic control board
Inaudible single-speed induced draft blower
Corrosion and rust free painted steel cabinet
Comfort and Efficiency
Heating your home can be expensive so the key is to have a gas furnace which is easy on your pocket. This gas furnace has an AFUE rating of 92.1%, which means that up to 92 cents of every $1.00 of heating energy expense warms your home. In comparison, older gas furnace models were rated at 60% AFUE and it equates to only 60 cents of every $1.00 of heating energy expense warms your home. The remaining 40 cents worth of energy is wasted by those older units.
So Quiet You Will Not Even Notice It
With a multi-speed blower motor and sound-isolated blower assembly in this Goodman GKS9 gas furnace, it reduces the noise level to a whole new level. To make it even more inaudible, the unit is housed in an insulated, heavy-gauge steel cabinet. These features make this Goodman an unmatched product with combination of performance, efficiency and affordability.
Reliability You Can Count On
The heat exchanger is the heart of any gas furnace. To make it more durable and long lasting, this Goodman furnace equipped with aluminized-steel tubular heat exchanger and stainless-steel recuperative coil is tested to industry standards. To further ensure the safety and reliability, Goodman has included a quiet, efficient hot surface igniter which helps in safe start-ups andmaximizes igniter life.
Consumers Energy Management Inc. is Authorized Retailer of Goodman
Resources
Documentation
Video