KeepRite G9MXT Gas Furnace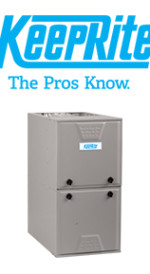 Up to 96% AFUE, Two-Stage, ECM Gas Furnace
ON SALE - CALL FOR DETAILS
California NOx approved with up to 96% AFUE, all models
All models approved by ENERGY STAR®
Furnace with two−stage heating operation
ECM Blower motor with Xtra SEER
Supports both single and two-stage cooling units
Paring with other applications approved
Cooling features a dehumidification feature
Air cleaner electronic terminal.
Quality, Durability and Trust
KeepRite G9MXT Gas Furnace engineered with latest designs and technological features delivers both high quality and durable comfort to your household for years to come. With the AFUE rating of up to 96%, this gas furnace proves to be an energy efficient unit. With ENERGY STAR®, it further ensures the operating cost will be much cheaper in this gas furnace.
Consumers Energy Management Inc. is Authorized Retailer of KeepRite