Features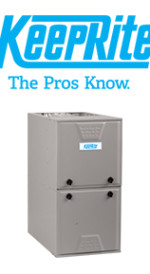 Up to 96% AFUE, Two-Stage, ECM Gas Furnace
ON SALE - CALL FOR DETAILS
California NOx approved with up to 96% AFUE, all models
All models approved by ENERGY STAR®
Furnace with two−stage heating operation
ECM Blower motor with Xtra SEER
Supports both single and two-stage cooling units
Paring with other applications approved
Cooling features a dehumidification feature
Air cleaner electronic terminal.
A Tough Customer
To ensure both durability and strength, KeepRite G9MXT Gas Furnace enjoys engineering advancements including
Standard flame roll−out sensors
Heating blower OFF delay
Factory set blower ON delay
Secondary heat exchanger manufactured from stainless steel
High temperature limit control to check and prevent overheating
Direct ignition with Silicon Nitride igniter
One piece, corrosion-resistant steel cabinet
Quiet and Easy To Maintain
KeepRite G9MXT Gas Furnace operates at quieter, lower heating rates to ensure the system is inaudible and provides a comfortable environment within the house. To further ensure quiet operation, the furnace is housed in insulated steel cabinet with two−speed induced draft combustion blower. This unit is also equipped with a self-diagnostics super bright LED and a slide out heat exchanger assembly and blower assembly for easy service and maintenance.
Consumers Energy Management Inc. is Authorized Retailer of KeepRite