KeepRite N9MSE Gas Furnace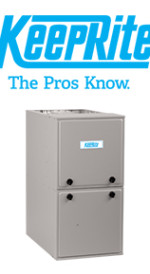 KeepRite 95.5% AFUE, Single Stage, Gas Furnace
ON SALE - CALL FOR DETAILS
California NOx approved with 95.5% AFUE Rating
With all present air inlets, air outlets, and condensate drain port(s) sealed, this unit is certified with 2% or less leakage of nominal air conditioning CFM delivery.
Approved for paring applications with accessories
Approved for mobile home/manufactured housing with accessories.
Quality with Savings
The KeepRite® N9MSE Gas Furnace is manufactured with latest engineering and design features that deliver high quality and durability. To generate maximum heat and prevent cracking problems, the heat exchanger is designed and constructed weld free. With 95.5% AFUE ratings and updated technology, this gas furnace is both fuel efficient and saves on fuel bills.
Consumers Energy Management Inc. is Authorized Retailer of KeepRite