Features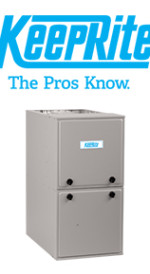 KeepRite 95.5% AFUE, Single Stage, Gas Furnace
ON SALE - CALL FOR DETAILS
California NOx approved with 95.5% AFUE Rating
With all present air inlets, air outlets, and condensate drain port(s) sealed, this unit is certified with 2% or less leakage of nominal air conditioning CFM delivery.
Approved for paring applications with accessories
Approved for mobile home/manufactured housing with accessories.
Durable and Tough
To ensure durability and strength, this gas furnace enjoys both technological and engineering advancements including
Standard flame roll out sensor
Adjustable setting for heating blower OFF delay
Factory set blower ON delay
Overheating prevented by high temperature limit control
Silicon Nitride igniter with direct ignition
One-piece, corrosion-resistant high-quality steel cabinet
KeepRite RPJ® Technology
At the heart of this KeepRite Gas Furnace lies the heat exchanger with company's patented RPJ® technology. The RPJ, Rigid Press Joint heat exchanger minimizes problems like cracking and leaking. The baffled design optimizes heat transfer while the clamshell form provides better air movement. The primary aluminized steel and the stainless steel secondary heat exchanger also help in capturing additional heat generated from the furnace.
Consumers Energy Management Inc. is Authorized Retailer of KeepRite