GeneralAire 1042LH Legacy Humidifier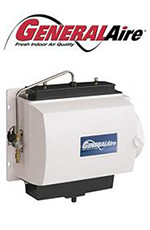 GeneralAire Legacy Series Humidifier
ON SALE - CALL FOR DETAILS
Ideal for Home Sizes up to 2,800 Sq. Ft
17 GPD (Based on 120° Plenum Temperature)
24V and light 13 lbs. weight
Shut-Off Damper
MHX3 Manual-Control Duct Mount Humidistat included
Vapor Pad® replacement 1-2 times per season.
GeneralAire 1042LH Legacy Humidifier is essential for any household to provide fresh and clean air indoors. The GeneralAire Legacy Humidifier is designed to disperse water evenly throughout a Vapor Pad® inside the 1042LH. The Legacy Series Humidifier is designed to allow portion of the heated air from the furnace to pass through the water-soaked pad where it absorbs additional moisture and returns the air for distribution throughout the home with newly-moistened and healthier air.
Consumers Energy Management Inc. is Authorized Retailer of GeneralAire