Features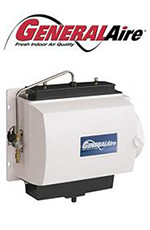 GeneralAire Legacy Series Humidifier
ON SALE - CALL FOR DETAILS
Ideal for Home Sizes up to 2,800 Sq. Ft
17 GPD (Based on 120° Plenum Temperature)
24V and light 13 lbs. weight
Shut-Off Damper
MHX3 Manual-Control Duct Mount Humidistat included
Vapor Pad® replacement 1-2 times per season.
The Healthy and Comfortable Choice
GeneralAire 1042LH Legacy Humidifiers are designed with your family health in mind. 1042LH Legacy Humidifiers the healthy choice for reducing allergy, asthma symptoms and minimizes the risk of infection while protecting your home valuables and save money.
Ideal Humidity Level
The GeneralAire 1042LH Legacy Humidifiers provides ideal humidity levels to provide a comfortable and healthy environment for all your valuables including woodwork, furniture, plants, pets and especially you and your family. With minimal maintenance required only once a year, the GeneralAire Humidifiers provide a comfortable environment to your home with little to no operation noise.
Reliable and Long-Lasting Healthy Environment
The GeneralAire Legacy Humidifiers are designed to provide years of long lasting healthy service to your household and eliminates low humidity which causes the viruses to thrive and lead to infections including nose bleeds, increased risk of infections, flu, cold and other respiratory conditions. Also dry air can cause asthma and allergy symptoms as well
Consumers Energy Management Inc. is Authorized Retailer of GeneralAire