Warranty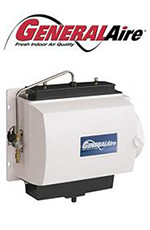 GeneralAire Legacy Series Humidifier
ON SALE - CALL FOR DETAILS
Ideal for Home Sizes up to 2,800 Sq. Ft
17 GPD (Based on 120° Plenum Temperature)
24V and light 13 lbs. weight
Shut-Off Damper
MHX3 Manual-Control Duct Mount Humidistat included
Vapor Pad® replacement 1-2 times per season.
The GeneralAire Legacy Humidifiers comes with exceptional warranty protection when the humidifier is properly registered by the return of the warranty registration card to the manufacturer. Warranty includes
5 Years Warranty
Defects in materials and workmanship for a period of one year from the date of installation
Any other defective parts will be repaired without charge except for removal, re-installation and transportation costs.
Consumers Energy Management Inc. is Authorized Retailer of GeneralAire