Honeywell TrueEASE™ Evaporative Humidifiers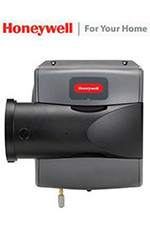 Honeywell Whole-house TrueEASE™ Evaporative Humidifiers
ON SALE - CALL FOR DETAILS
Installed with central heating and cooling systems for whole-home comfort
Easy access humidifier pad replacement
Hassle free maintenance
Energy efficiency by eliminating constant cycling of air
Humidifies indoor air and prevents growth of bacteria, fungus etc.
Honeywell TrueEASE™ Evaporative Humidifiers are essential add-on for any household to provide clean and fresh air indoors. The Honeywell Whole-house TrueEASE™ Evaporative Humidifiers with a versatile design allows for installation in every home, including townhomes and condos where it once was impossible. With simple maintenance, the user-friendly accessible pads make the upkeep easier allowing sustained, long-term comfort.
Consumers Energy Management Inc. is Authorized Retailer of Honeywell