Features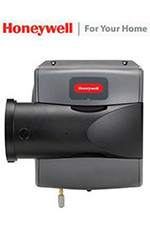 Honeywell Whole-house TrueEASE™ Evaporative Humidifiers
ON SALE - CALL FOR DETAILS
Installed with central heating and cooling systems for whole-home comfort
Easy access humidifier pad replacement
Hassle free maintenance
Energy efficiency by eliminating constant cycling of air
Humidifies indoor air and prevents growth of bacteria, fungus etc.
Healthy Indoor Environment
Honeywell TrueEASE™ Humidifiers ensures that the household stay properly hydrated in order to maintain the comfort. The indoor air can becomes dry and soaks up the moisture from everyone and everything in your home including dry nasal passages, dry skin, chapped lips and static electricity which leads to a lot of discomfort. The Honeywell TrueEASE™ Evaporative Humidifiers ensure that the air indoors has enough moisture to make life for you and your family comfortable.
Simple Maintenance and Comfort
The Honeywell Evaporative Humidifiers are designed for easy maintenance with slide-out pad design. Also with Change Pad indicator light on the front it makes it easy to know when the pads need to be replaced. With and inaudible operation, the TrueEASE™ Evaporative Humidifiers are quietest humidifies in the market.
Eco-Friendly and Energy Efficient
The Honeywell TrueEASE™Humidifiers provide energy efficiency as these humidifier units automatically monitoring the dryness in your home, and when humidity is only then they run water and air through the system. As the humidified air feels warmer, they also help in cutting down energy cost.
Consumers Energy Management Inc. is Authorized Retailer of Honeywell