Vanee 26-100h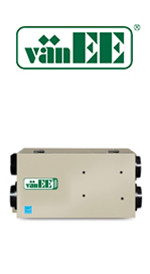 Product number: 1601706 (side ports)
ON SALE - CALL FOR DETAILS
Reliable and compliant with the building code!
Proper ventilation flow and a quiet operation
Ideal for mid-sized* homes
Improves indoor air quality and reduces excess humidity
The 100H is a heat recovery air exchanger that offers a proper ventilation flow and a quiet operation. Ideal for mid-sized* homes, the 100H improves indoor air quality and reduces excess humidity by bringing a steady flow of fresh outdoor air into the home.
The 100H is proudly ENERGY STAR® certified.
*Refer to local building code.
To learn more about wall controls compatible with this unit, please refer to the wall controls specification sheet.