Vanee 5-3000 HE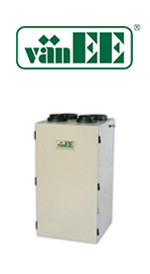 Product number: 48405 (top ports)
ON SALE - CALL FOR DETAILS
Delivers unparalleled indoor air quality and excess humidity control
Rate of air exchange up to 321 CFM
Ultimate heat recovery performance
Quiet operation thanks to its SilentSureTM mode
THE MOST POWERFUL, THE MOST EFFICIENT!
The HE 3000 is a heat recovery ventilator that delivers unparalleled indoor air quality and excess humidity control to medium and large-sized homes*. With its air exchange rate up to 321 CFM, ideal for homeowners living in cold areas, it offers the ultimate heat recovery performance while offering quiet operation thanks to its SilentSureTM mode.
*Refer to local building code.
To learn more about wall controls compatible with this unit, please refer to the wall controls specification sheet