Vanee 50H – NEW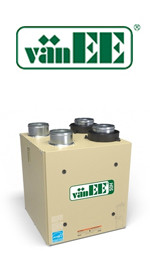 Product number: 44600 (top ports) and 44602 (side ports)
ON SALE - CALL FOR DETAILS
Advanced blower design for quiet operation
Fast and easy installation with top or side ports options
Meet ENERGY STAR® requirements
Easy to balance with integrated dampers and pressure taps
Now with a 5-year warranty
The Ideal Air Exchanger for Small Spaces
The 50H is the ideal choice for condominiums, apartments and other limited space applications that require up to 90 CFM of continuous ventilation. With their compact size and 4-inch ports, they can be installed in small spaces such as a closet or mechanical room above a hot water tank.
In addition to being Energy Star® qualified, 50H is specifically designed to fulfill all your residential ventilation needs and to meet the characteristics of an air exchanger in the efficient home programs.
Compact machines that think big.
To learn more about wall controls compatible with this unit, please refer to the wall controls specification sheet.
Consumers Energy Management Inc. is Authorized Retailer of Van EE