Vanee 9-2001 HRV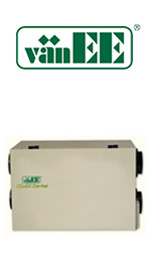 Product number: 45828 (side ports)
ON SALE - CALL FOR DETAILS
Heat recovery ventilator designed for mid-size homes
Rate of air exchange up to 235 CFM
Power, reliability and very quiet operation
Optimize the ventilation and the energy consumption
COMFORT AND OPTIMAL INDOOR AIR QUALITY!
The 2001 HRV is a heat recovery ventilator designed for larger homes*. With its rate of exchange air up to 235 CFM, it offers homeowners power, reliability and very quiet operation. When used along with the Platinum wall control with SMART mode (automated ventilation based on indoor relative humidity and outdoor temperature), the 2001 HRV allows to optimize the ventilation and the energy consumption.
The 2001 HRV is proudly ENERGY STAR® certified.
*Refer to local building code.
To learn more about wall controls compatible with this unit, please refer to the wall controls specification sheet.