Aprilaire Model 8463 Thermostat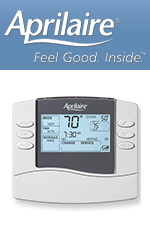 Aprilaire Model 8463 Programmable Thermostat
ON SALE - CALL FOR DETAILS
Aprilaire Model 8463 Thermostat works with standard heating and cooling systems.
Aprilaire 8463 Thermostat is energy efficient and can save up to 30% on energy costs annually.
It has a Progressive Recovery feature that activates the heating or cooling system prior to a scheduled setting to ensure your home is always comfortable.
Aprilaire Model 8463 Thermostat comes with a convenient 5/1/1 day or 5/2 day programming that helps you control the heating or cooling systems for total comfort and efficiency. With this programmable thermostat, you can customize your weekday and weekend schedule for maximum comfort and energy efficiency.
Consumers Energy Management Inc. is Authorized Retailer of Aprilaire