Features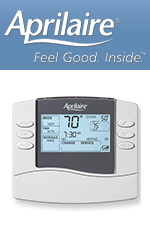 Aprilaire Model 8463 Programmable Thermostat
ON SALE - CALL FOR DETAILS
Aprilaire Model 8463 Thermostat works with standard heating and cooling systems.
Aprilaire 8463 Thermostat is energy efficient and can save up to 30% on energy costs annually.
It has a Progressive Recovery feature that activates the heating or cooling system prior to a scheduled setting to ensure your home is always comfortable.
Aprilaire 8463 Thermostat has a high contrast large 4.5 square-inch LCD Screen with backlit display for easy reading.
This programmable thermostat has a Progressive Recovery feature with easy to use temperature control & the ability to override the program schedule at any time.
The Aprilaire 8463 Programmable Thermostat has a circulation fan mode that prevents hot and cold spots.
It also offers service reminders for your HVAC system, humidifier, dehumidifier and air filter to protect your equipment.
Consumers Energy Management Inc. is Authorized Retailer of Aprilaire