Specification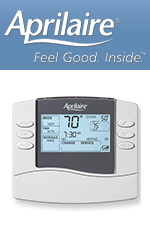 Aprilaire Model 8463 Programmable Thermostat
ON SALE - CALL FOR DETAILS
Aprilaire Model 8463 Thermostat works with standard heating and cooling systems.
Aprilaire 8463 Thermostat is energy efficient and can save up to 30% on energy costs annually.
It has a Progressive Recovery feature that activates the heating or cooling system prior to a scheduled setting to ensure your home is always comfortable.
Consumers Energy Management Inc. is Authorized Retailer of Aprilaire