Ecobee Smart Si Wi-Fi Thermostat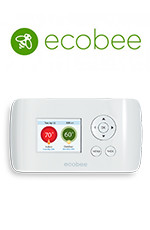 Smart Si Wi-Fi Programmable Thermostat
ON SALE - CALL FOR DETAILS
High-resolution color display.
Energy Efficient and can help save an average of 23% on energy costs.
Easy to connect and can connect with Smartphone, Tablet or Computer over Wi-Fi.
Push button control to adjust schedule or view date, time or weather outside.
The Wi-Fi connected Ecobee Smart Si Thermostat is designed to lower your heating and cooling costs without compromising on your comfort. With the Ecobee Smart Si Wi-Fi thermostat, you can monitor or adjust your home's indoor temperature anytime, from anywhere, on your smartphone, tablet, or computer.
Consumers Energy Management Inc. is Authorized Retailer of Ecobee Thermostats