Features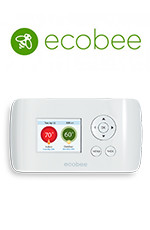 Smart Si Wi-Fi Programmable Thermostat
ON SALE - CALL FOR DETAILS
High-resolution color display.
Energy Efficient and can help save an average of 23% on energy costs.
Easy to connect and can connect with Smartphone, Tablet or Computer over Wi-Fi.
Push button control to adjust schedule or view date, time or weather outside.
Smart & Reliable Technology
The Ecobee Smart Si Wi-Fi Programmable Thermostat is smart and can turn on your heating or cooling equipment based on your home's unique energy profile and the weather outside to keep your indoors comfortable in any weather.
Energy Efficiency with Maximum Comfort
The Ecobee Smart Si Wi-Fi Thermostat can help reduce your annual energy cost to up to 23% without compromising on your comfort. It can also work with many heating or cooling systems making it a perfect choice for your home.
Consumers Energy Management Inc. is Authorized Retailer of Ecobee Thermostats